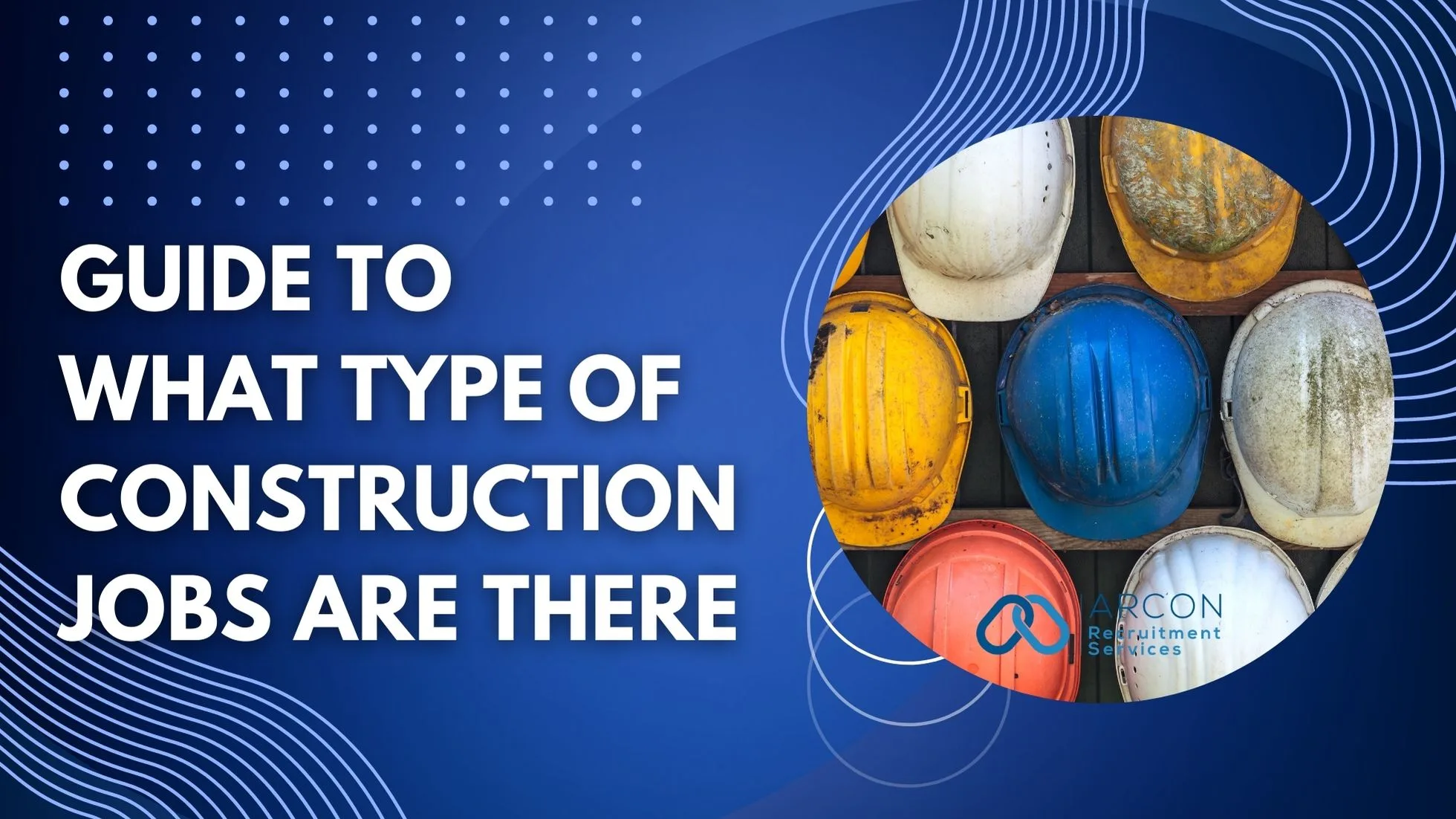 Guide to What types of Construction Jobs are there
Introduction to the types of Construction Jobs
Ever wondered about the different types of construction jobs and what they entail? Interested in a career in the construction industry in Ireland? This blog post from Arcon Recruitment will take you on a tour of the varied roles available in the construction sector.
Laying the Foundations: Construction Labourer and Operative Jobs
The construction industry starts at the ground level – with the hardworking construction workers, labourers and operatives. These roles are often the backbone of any construction project. Involving manual labour tasks like digging trenches, loading and unloading materials, or clearing sites.
If you're someone who enjoys hands-on work and typically working outdoors, these roles could be an excellent fit.
Crafting the Details: Skilled Trades Jobs
Skilled tradespeople such as carpenters, electricians, plumbers, and bricklayers are essential to every construction project. These specialists have practiced their craft over years, and their expertise contributes to the finer details of a construction project. These construction professionals would be in high demand in Ireland.
Orchestrating the Symphony: Construction Management Jobs
Effective management is necessary for every construction or building project to ensure completion of tasks on time and within budget. Construction managers, project managers, contracts manager and site managers play crucial roles in overseeing projects. This can include coordinating teams, and liaising with clients and stakeholders.
Site foremen on construction sites are in charge of managing the day-to-day operations on the site. Give directions to workers, coordinate with different teams, and make sure that everyone is doing their jobs correctly and safely.
They also keep track of the progress of the project to make sure everything is going according to plan. If there are any problems, like delays or accidents, they're the ones who deal with it. If you're a natural leader who enjoys solving problems and working with a team, a job as a site foreman could suit.
These roles require a combination of technical knowledge and leadership skills. Explore the array of construction management roles available at Arcon Recruitment.
Ensuring Safety: Health and Safety Jobs
The construction industry, due to its nature, has inherent risks, making health and safety roles extremely important. Health and Safety Officers ensure that construction sites meet safety regulations and that workers are following safe practices.
Health and safety jobs on construction sites are all about making sure everyone stays safe while they work. People in these roles keep an eye on everything happening on the site to make sure the workers are following the rules and not taking any unnecessary risks. They also check that all the equipment is used correctly and that the site is set up safely.
These jobs are extremely important because construction sites can be dangerous places if people don't take care. These roles require keen attention to detail and strong communication skills.
If you're passionate about safety and ensuring a hazard-free environment, check out the construction health and safety roles listed on Arcon Recruitment's website.
Breathing Life into Blueprints: Architectural and Engineering Jobs
Behind every impressive structure are the architects and civil engineers who design and plan the technical aspects of the project. These roles involve designing buildings, estimating costs, and ensuring the structural integrity of the construction projects.
Quantity Surveyors Jobs
Quantity Surveyors and Construction Estimators are in high demand in Ireland for both the commercial and residential construction industry.
QS in construction are the ones who figure out how much a construction project is going to cost. Quantity surveyors examine the plans to calculate the required quantities of everything, such as bricks, cement, steel, or paint. They also estimate how long the work will take. Then, they add up all these costs to give a total budget for the project.
They also keep an eye on spending as the work progresses, to make sure the project stays within budget. You would need skills with numbers and details for a job as a quantity surveyor.
Site Engineer Jobs
A site engineer on a construction site in Ireland is like the go-to problem solver when it comes to technical stuff. They use their engineering knowledge to plan how the building will be constructed and make sure that all work is being done correctly according to the design. They're often out on the site, checking measurements, materials, and work quality.
They help in resolving construction problems, such as design changes or unforeseen ground issues, that may arise. Consider a job as a site engineer in Ireland if you love figuring out how things work and enjoy the challenge of making designs come to life.
If you have the above skills and qualifications, Arcon Recruitment has a number of architectural and engineering job roles waiting for you.
Beautifying the Build: Interior and Landscape Design Jobs
Once the structure is up, interior designers and landscape designers step in to enhance the aesthetic appeal of the project. Interior designers focus on creating functional and beautiful indoor spaces, while landscape designers plan and create outdoor areas.
Conclusion on the types of Construction Jobs
The construction industry in Ireland is dynamic and diverse, offering a wealth of opportunities for people with varied skills and interests. From hands-on labour roles to highly specialized architectural jobs, the construction sector offers a role for everyone.
Arcon Recruitment, as one of Ireland's leading construction recruitment agencies, is dedicated to connecting job seekers with these opportunities. So, whether you're just starting your career or looking for a new role in the construction industry, start your search with Arcon Recruitment.
Explore our construction job listings today and take the first step towards your next exciting career adventure in construction!
Your dream job in Ireland's construction industry is just around the corner – start your search with Arcon Recruitment today! Upload your CV/Resume today to get started!
ARCON JOBS, Galway vacanices, Jobs, Jobs in Dublin, Jobs in Galway, Jobs in Roscommon, jobs in sligo, Mayo, News