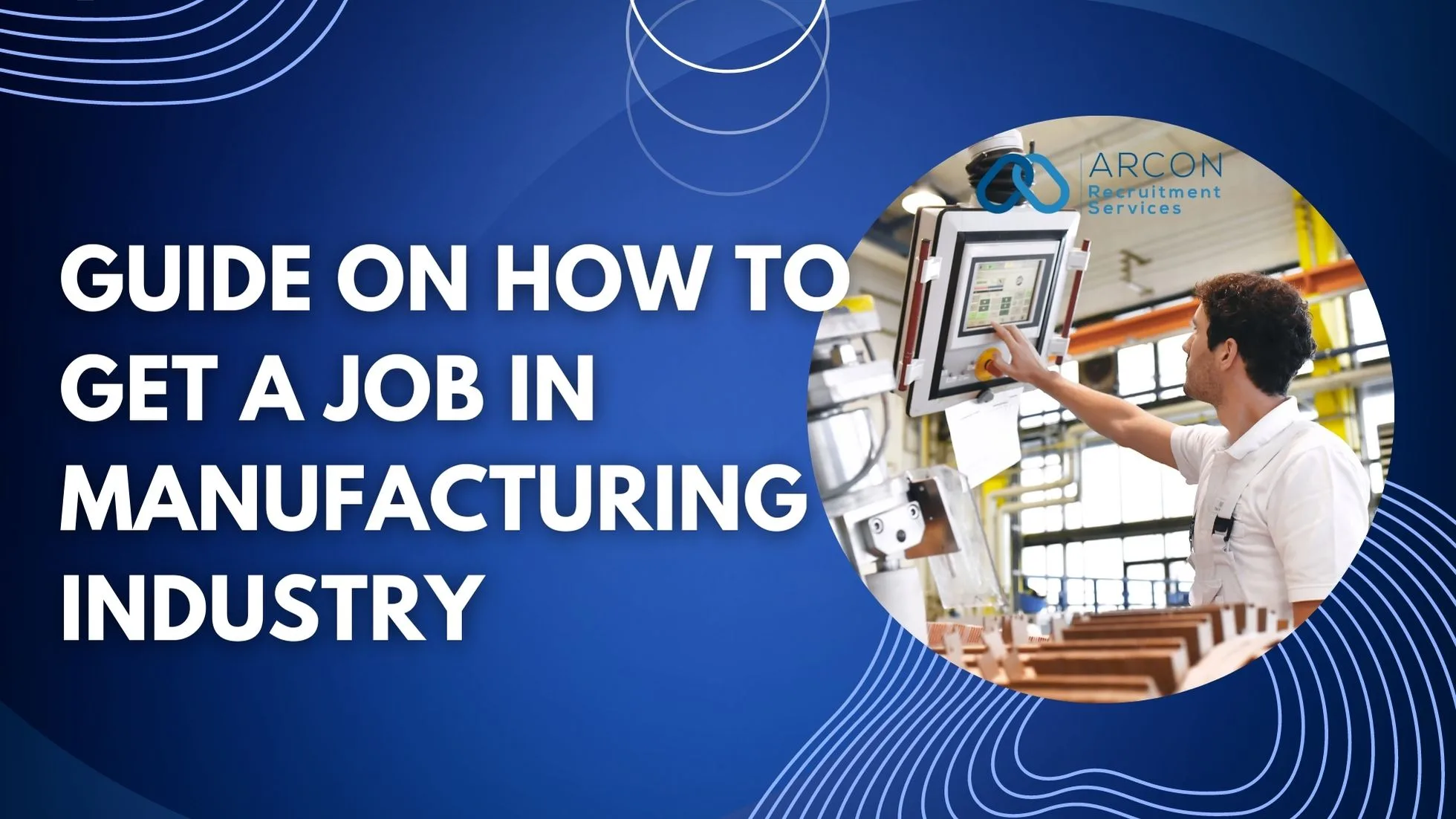 Guide on How to get a Job in Manufacturing Industry
How to get a Job in Manufacturing Industry
The Irish manufacturing sector, brimming with innovation and diverse opportunities, awaits your talent. Arcon Recruitment, a top Irish recruitment agency, can assist you in pursuing a career in this exciting industry. 
Preparing to Apply for a Job in Manufacturing
Understanding the Manufacturing Sector in Ireland
Ireland's manufacturing industry is vast, with sectors ranging from Pharma to food and beverage, engineering to technology. Before you dive into job applications, spend some time researching various sectors. Knowledge is power, and understanding where your skills best align will offer a significant advantage.
The manufacturing industry is important for Ireland's economy, creating jobs and playing a big role in global trade. There are lots of job choices in this field, like hands-on work, engineering, supervising, or managing. It's a sector that values skills and innovation, so there's always room for growth and development.
Identify Your Skills and Strengths
The manufacturing industry values a wide array of skills. Technical know-how, problem-solving abilities, leadership, and communication skills are all highly sought after. The open job roles vary from production operative, to health and safety, logistics, purchasing and supervising. With Arcon Recruitment's help, you can align your strengths with available positions, paving the way for a successful job hunt.
Crafting a Standout CV & Cover Letter
Your CV and Cover Letter is the first interaction potential employers have with you. Ensure it's well-crafted, showcasing your skills, experience, and why you're a great fit for the manufacturing industry.
Your CV should list your work history, education, and any relevant skills or qualifications. Make sure each point is straightforward and easy to understand.
Your cover letter is your chance to tell employers why you're the right person for the job. Make it personal, highlight your most impressive achievements, and explain why you're interested in the role. Remember, spelling and grammar matter, so check your work carefully.
A good CV and cover letter can greatly impact your job search and increase your chances of getting an interview. Arcon Recruitment's recruitment team can assist you in creating a CV that stands out from the crowd.
Preparing for Interviews
Arcon Recruitment helps with interviews by offering role guidance and providing feedback afterwards, easing nerves. We provide resources and guidance to help you prepare, ensuring you confidently articulate your skills, experiences, and fit for the role. We have an article on how best to prepare for a job interview which we recommend you review. 
Getting ready for an interview in Ireland is all about planning and practice. First, do your homework about the company you're interviewing with. Understand what they do, their values, and what they might expect from you.
Think about typical interview questions like asking about your strengths, weaknesses, or why you want the job. Practice your answers, but don't memorise them word for word – you want to sound natural and flexible.
Remember to dress smartly, be on time, and bring any documents you might need. Most importantly, stay calm and be yourself. Good preparation can help you feel confident and perform your best during the interview.
Apply for Manufacturing Jobs with Arcon Recruitment
The manufacturing job market in Ireland is competitive, but you're not alone. With Arcon Recruitment, you have a recruitment team ready to connect you with the perfect manufacturing job. Check our website frequently for the latest manufacturing job postings and take the first step towards your dream career in manufacturing.
Utilise Arcon Recruitment's Expert Guidance
Navigating the job market can be challenging. Arcon Recruitment's expert team, equipped with in-depth industry knowledge and a vast network of contacts, is ready to guide you. We're committed to helping you find a job that not only matches your skills and experience but also your career aspirations. Arcon Recruitment recruits for many manufacturing businesses in Ireland, especially in Mayo and Connaught. 
Next Steps on How to Get a Job in Manufacturing
Embarking on a job hunt in the manufacturing industry is a journey filled with opportunities. At Arcon Recruitment, we want to help you find a job in Manufacturing and guide you through the process. 
Your dream job in Ireland's manufacturing industry is just around the corner – start your search with Arcon Recruitment today! Upload your CV/Resume today to get started!
ARCON JOBS, Jobs, Mayo, News