Network Mayo Summer Business Luncheon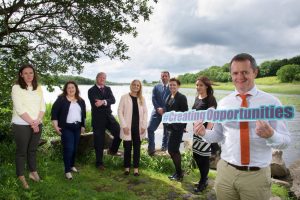 The team at Arcon Recruitment are delighted to be named as one of the sponsors for the Network Mayo Summer Business Luncheon – undoubtedly the highlight of the Network Mayo Calendar!
Sylvester is particularly looking forward to judging the pitching competition alongside Orla Carmody.
A great afternoon is most definitely in store for all attendees!
Female entrepreneurs invited to pitch at Network Mayo's Summer Business Luncheon for €2,000 prize fund
Network Mayo is inviting female business entrepreneurs from Mayo to take part in a pitching competition, the final of which will be held at their annual Summer Business Luncheon in association with at The Lodge at Ashford Castle on Friday, June 23.
With a €2,000 prize fund, this competition offers female entrepreneurs a genuine opportunity to promote their businesses to an engaged audience while also vying for this excellent prize fund which includes a printing package from All In Design and Print, targeted sales training from All About Sales, business mentoring from Mayo LEO, free membership of Network Mayo up to January 2019 and a business profile in the Connaught Telegraph.
Entry to the pitching competition is free of charge and tickets for the Network Mayo Summer Business Luncheon as well as a link to enter the pitching competition are now on Eventbrite. See the Network Mayo Facebook page for details.
Guest speaker at this year's business lunch is renowned trainer and managing director of Mediatraining.ie Orlaith Carmody who will be giving a free copy of her recently published book Perform As A Leader to everyone who attends the event.
A highly skilled corporate trainer, leadership consultant and strategy coach, Orlaith is in demand as a keynote speaker, conference chair and seminar leader. Over the years she has worked with some of Ireland's most influential business people, networks and political groups, and has presented at conferences in the USA, UAE, Canada and all over Europe.
An active media commentator, she contributes to a variety of programmes and publications on subjects such as doing business today, women's participation at board level and in public life, entrepreneurship and education.
Orlaith served on the board of RTÉ from 2010 to 2015, and was President of the Irish Chapter of EO, the Entrepreneurs' Organisation 2014/2015.
Orla will act as a judge for the pitching competition alongside Sylvester Jennings, CEO of Arcon Recruitment and a representative from Mayo LEO.
"We are really looking forward to this year's Summer Business Luncheon in association with MS Ireland which will have a very dynamic twist with the pitching competition. The Lodge at Ashford Castle is a stunning setting to celebrate the best of female entrepreneurship in Mayo. We are so grateful to our sponsors for their continued support and we look forward to an exciting competition, great food and a relaxing afternoon on June 23," said Orla Cunningham, President of Network Mayo.
Network Ireland President Becci Harrison will also be attending the event where a special accolade will be bestowed on one outstanding Mayo woman. Last year's recipient was Mayo TD Lisa Chambers and the Network Mayo President is looking forward to unveiling the winner for 2017.
Tickets for the Network Mayo Summer Business Luncheon cost €35 for members and €50 for non-members. For tickets and application forms for the pitching competition check out the Eventbrite link on the Network Mayo Facebook page.
The deadline for applications to the pitching competition is Friday, June 16 and the finalists who will go forward to pitching at the Summer Business Luncheon will be announced on Monday, June 19.
Network Mayo membership is open for 2017 and anyone interested in joining can email [email protected] to request an application form. Annual membership costs €125 with a 10% discount for customers of AIB, Network Ireland's national sponsor.
The Summer Business Luncheon event sponsors are Arcon Recruitment, All About Sales, All in Design and Print, Mayo Leisure Point, Beverly Hills, AIB,