Top Tips for Zoom Interviews.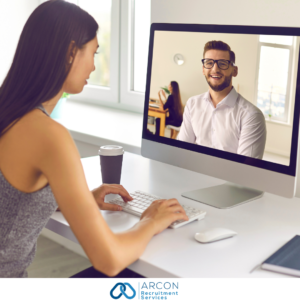 Corona virus brought many challenges to the workplace, not least when it comes to Recruitment.  Companies had to come up with new and innovative ideas to ensure the recruitment process did not breakdown during this unusual time in business.
The virtual interview was a technique introduced by most companies in 2020 to keep things going while we were essentially in lockdown.  Many believed this technique was a temporary measure – little did we know that face to face interviews would still be impractical 18 months later!
So, we find ourselves approaching the second half of 2021 and the Zoom or Teams interview is still a prominent feature of the recruitment activity.  Interestingly, many companies have found that the virtual interview has provided many benefits to the recruitment process, and it is fair to say this technique is here to stay.
Firstly, interviewing candidates virtually, speeds up the process.  Candidates no longer need to factor in travel time to interviews.  In some circumstances initial zoom interviews can be managed during break time or even after working hours.
The Zoom interview requires less of a time investment by both the interviewer and interviewee – so companies find it an excellent way to conduct the initial stages of the recruitment process.  If the candidate does well at the virtual interview, then a face-to-face interview can be arranged, safe in the knowledge it is likely to be more fruitful as the initial discussions have been completed.
The virtual interview has proved an excellent resource for companies seeking to recruit candidates from outside of the country. In this instance the full recruitment process from initial meeting right through to offer can be conducted without any disadvantage.
Like anything new, many people were sceptical of the virtual interview at first and it really did force those of us who were a little more "technically challenged" to embrace the change.  Over the course of the pandemic, we have found candidates and companies alike have become much more comfortable with the new ways to interview. However, we have all seen the potential pitfalls of virtual interviewing, mostly in hilarious YouTube clips of children bursting into live TV interviews or pets jumping onto the camera at any moment.
While this is indeed a great source of entertainment, it should be remembered that when it comes to attending an interview over Zoom or a similar medium, some basic rules apply to make sure candidates represent themselves in the best possible way and ultimately secure the coveted position.
Preparation for the interview
In terms of preparing for the interview, candidates need to go through the same process as with a face-to-face interview – but with a few extras.  Do not make the mistake of approaching the interview in a more casual fashion simply because it is virtual.  Interviewers will need to gather the same information from their potential employees as if you were in the room with them.  So, researching the company and the job, preparing one or two clever questions, and taking the advice of your recruitment consultant about the kind of questions that may be asked is still of the utmost importance.
Check your technology… Twice!
Make sure you are comfortable with the software.  Download the particular programme well ahead of the interview time and if possible complete a practice run so you can be sure of camera placement and volume levels.
Eliminate distracting habits!
One of the worst Zoom interview mistakes you can make is to indicate through your behaviour and mannerisms that you are not interested in what the interviewer is saying. Unfortunately, this is easier to do than you might think. Little gestures can make a big impact. Fidgeting with your hair or your clothes or staring at yourself instead of connecting with the interviewer—all of these can make it seem like you are disconnected or distracted. Not the impression you are keen to make. Get use to looking at yourself on screen in advance of the interview. This will allow you to fully concentrate on the interview and will ensure you do not miss any questions or misinterpret information.
Check your surroundings:
Zoom allows you to choose a digital background image rather than displaying your own bedroom or living room walls.  This is a great idea – when used correctly.  If you chose to go down this route, select your background wisely.  Clean and Simple are the key words here.  You need to be the focus of the meeting – not your background.  Bold patterns or colours could be distracting and possibly even off-putting for your interviewer, so it is best to err the side of caution and leave the more stimulating backgrounds for the family zoom quiz!
Gather your Materials:
Take advantage of the off-screen area.  Make sure you have a copy of your cv in front of you for reference.  Keep a glass of water to one side just in case.   One very important point is to make sure your phone is not on the table in front of you.  Incoming messages or notifications will momentarily distract you – even if your phone is on silent.  So, avoid this potential pitfall and leave the phone in another room for the duration of the interview.
Dress to Impress:
If you've been accustomed to being at home in tracksuits or pyjamas for an extended period, it might be hard to remember what professional attire even looks like.  While each company is different in terms of its culture and dress code, for interview purposes it is always best to dress up a bit even if employees keep it casual. Remember that whatever you choose should show well on camera as well as be professional. Avoid stripes, extremely bright colours, or wearing the same shade as your background. Even if the interviewer cannot see the lower half of your body, it is a good idea to wear appropriate clothes. You will conduct yourself more professionally and avoid showing off your pyjama pants if you need to stand up for some reason.
Whether we like it or not, virtual interviews will have a place in the recruitment process long after Covid is a distant memory.  Follow our advice and make this work for you.
Good luck!
If you are interested in speaking to a member of our team then be sure to contact us today. Check out our Team Members for insights on their experiences in the recruitment industry. Get in touch via email or phone today and we can discuss the hiring process in detail. Take a look at our current job vacancies today and see if there is currently a job availability which suits your experience and skill set.