Overview
Our Client in Co Mayo is seeking an Innovation Manager to join their team.
The Innovation Manager will be responsible for supporting and implementing the Front End Innovation (FEI) process within New Product Commercialization.
The Innovation Manager will:
Initiate priority innovation projects by gaining approval for project charters.
Ensure FEI projects deliver compelling Target Product Profiles and Preliminary Business Plans for product concepts.
Act as the Discovery Team Leader (DTL) for FEI projects.
Act as a Discovery Team Member (DTM) to guide and facilitate cross-functional Discovery Teams through the FEI process.
Contribute, where relevant, to strategic efforts such as P3 preparation and Pre-Charter.
Be responsible for continually improving  FEI capability by continually evaluating new FEI tools and methods, maintaining the FEI process toolkit and training the FEI community on the necessary tools, skills, competencies and behaviors.

Ensure FEI projects deliver compelling Target Product Profiles (TPP) and Preliminary Business plan (PBP) for the lead concept.

Act as Discovery Team Leader, as needed, which encompasses leading the development of a discovery project including; project charter, key project steps, schedule, objectives, requirements, and assumptions to structure projects and activities to meet business needs.

Participate in the development and maintenance of a common FEI methodology and process.
Collaborate and help to create tools and documentation/training of the FEI methodology and process.
Identify and implement new methods or processes that improve on the existing FEI process.
Train Discovery Teams on the overall FEI process.

Provide coaching and facilitation to cross-functional Discovery Teams.

Champion the 

FEI 

process both within and outside of Global R&D.

Initiate priority innovation projects by gaining approval for discovery project charters.

Ensure communication across discovery teams to stakeholder groups within in the functions and business.

Work with the Discovery Team to define the best approach to evaluate concepts using both internal evaluation frameworks and external concept tests with customers.

Collect data on the progress of any innovation project and building reports that provide insight into innovation activities.  Data collected is with regard to activities, results, timeframes and outcomes to report on in the aggregate.

Develop and maintain list of innovation partners.

Engage in activities that will further develop their knowledge and expertise of FEI best practices.

Other duties as needed or required.
Work Experience Requirements
Number of Overall Years Necessary: 5-8

Experience in a technical, marketing, or engineering discipline developing products and/or leading projects
Education Requirements
Bachelor level or higher degree in a scientific, marketing or engineering discipline or 10+ years of equivalent experience required.

A business degree/MBA is a plus.
Specialized Skills/Technical Knowledge:
Excellent communication and interpersonal skills
Strong project management skills
Thrives in an ambiguous project environment, keeping an open and objective mind to building knowledge, testing assumptions and ultimately building a foundation for informed project decisions ('clarity from complexity').
Proven ability to collaborate and work effectively with others in a dynamic matrix environment.
The ability to find constant, continuous opportunities for innovation, fosters change, and fosters the sustainment of innovation activities.
Knowledge of Ostomy and Continence Care product development and portfolio.
For more information, contact Mairéad at Arcon Recruitment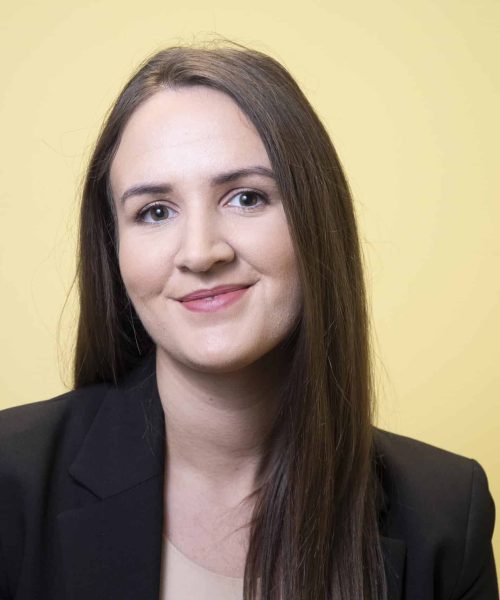 Mairéad initially joined our team as Marketing and Recruitment Co-ordinator. She quickly progressed to Recruitment Consultant and currently manages our busy Technical division. Mairéad is a proud Castlebar woman and holds a B.B.S from ATU Sligo. Mairéad recruits for positions in all areas of Technical/ Engineering and I.T. She has built excellent relationships with companies large and small and has proved herself invaluable in solving their recruitment issues.