Overview
Our Client, a construction company in Kildare requires a Senior HEQ Manager to join their team.
Job Scope
The role of SHEQ Manager is to lead the organisation and its employees in creating a safe and positive working environment. To do this the SHEQ Manager must support the project team towards best practice above the minimum industry standard while ensuring the organisation is following its legal, moral and financial obligations while remaining compliant on all occasions, so far as reasonably practical.
Responsibilities
The SHEQ Manager is responsible for supporting the Directors, Organisation, the board and the organisations Employees by ensuring that;
The organisation follows in the correct order it's Moral, Legal and Financial obligations
A SHEQ management system is maintained and changes implemented in accordance with compliance and conformance requirements of applicable legislation, ISO and SSIP systems
Appropriate competency and training requirements are detailed to support the organisations operational functions
The organisation audit schedule is managed, and adequate data is collected in order for analysis and trends to be identified in support of the organisation's continuous improvement program
The Company Directors are provided with suitable and sufficient information on a monthly and quarterly basis
Identifies immediate, underlying and root causes of all incidents and reports data in order to work towards continuous improvement and mitigate the organisations risk utilising the hierarchy of control, common, industry and where required additional expert knowledge
Liaise with the regulating authorities e.g. HSA, SEPA, EA etc where required
Suppliers and Contractors are assessed as being suitable to carry out work for the organisation
The training and competence of employees is maintained to the organisation competency matrix
Management of the direct reports of the SHEQ Team ensuring all H&S processes are maintained to best practice
Promote the organisations positive health and safety incentives
The organisation works to reduce its environmental impact
Supports the projects by aiding in the production of project SHEQ plans
Supporting the project management team in providing advice and guidance on operational activities
Authority
The SHEQ Manager has the authorities as detailed below to ensure that they are able to fulfil their role and responsibilities;
Stop any and all unsafe actions which has the potential to harm an individual or the organisation, whether this be from internal or external influences
To implement the disciplinary procedure upon the identification of unsafe acts through the organisation's management process
Make the appropriate changes to the SHEQ Management system in order to support the organisation and its employees
Role Requirements
The SHEQ Manager is required to have a number of qualifications and experience in order for them to be deemed as competent in the job role and must have;
A secondary level health and safety management qualification e.g. H&S Diploma
Previous experience in managing and maintaining a SHEQ Management system
Significant experience in the region of 5 years in health and safety field with a focus on Utilities/ Construction
Be CMIOSH or GradIOSH working towards to chartered status
Have excellent investigation skills
Ability to use digital equipment to produce reports and data to the required interested parties
Have excellent communication skills to engage with internal and external interested parties
In order to support the role, it is desired that the SHEQ Manager have some form of formal training and qualification in the below detailed elements to support the SHEQ Managers experience;
A formal qualification in environmental management e.g. IEMA Foundation
A formal qualification in quality / ISO management e.g. Lead Auditor
A formal fire risk management qualification e.g. NEBOSH Fire Security and Risk Management
A formal train the trainer qualification
For further information on this please contact Thomas in Arcon Recruitment.
Thomas: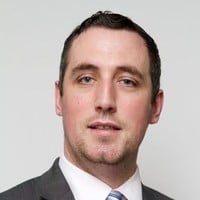 Senior Construction Recruitment Consultant
Thomas joined the Arcon team in January 2020, heading up the Construction and Engineering division. Thomas brings a wealth of experience with him having worked for a number of years in recruitment- both in an agency and within an in-house environment. Originally from Sligo, Thomas is now living and settled in Westport.