Irish TV is going global after a deal with one of the world's biggest companies
IRISH INTERNATIONAL BROADCASTER Irish TV has signed a deal with Indian conglomerate Tata that will make it accessible on smart devices worldwide.
The channel, which is targeted at the Irish diaspora, will be the first station to fully partner with Tata's Media Ecosystem service.
The deal will make Irish TV available to viewers worldwide on smart TVs and across devices running Apple's iOS or Google's Android system.
Global deal
A live, high-definition service, which will be accessible through Tata's app, will be launched in Ireland, the UK and the US on 1 July. The service will then be rolled out globally over the next 12 months.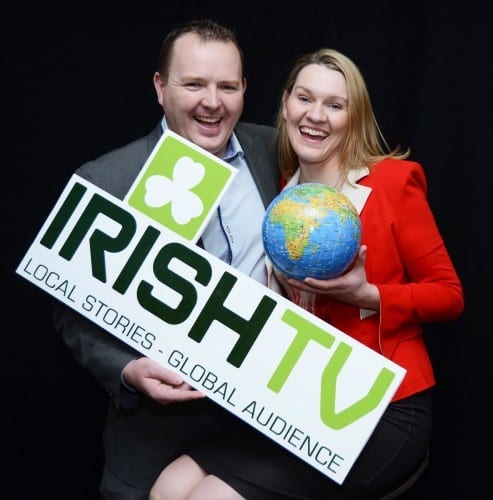 Irish TV founders Pierce O'Reilly and Mairead Ní Mhaoilchiaráin
Irish TV chief executive Pierce O'Reilly said he believes internet-based delivery "is the future of television".
"The technology will allow us to offer geo-targeted content and advertising solutions to clients in various markets worldwide and it will enable all content providers to deliver immediate content worldwide via Irish TV," he said.
"This is great news for Irish businesses, content creators and Irish film producers that seek international exposure.
"For example, our expansion into the US gives Irish businesses an easy route to a targeted live service and offers on demand playback services."
Global reach
Founded in 2014 by O'Reilly and Mairead Ni Mhaoilchiarain, the station already broadcasts to 15 million people in the UK and Ireland on the Sky platform.
Irish TV is bankrolled by London multi-millionaire John Griffin, who sold a majority stake in UK taxi company Addison Lee to private equity group Carlyle for £300 million in 2013.
The broadcaster, which is focused on producing local Irish content, employs over 150 people, including more than 30 staff at its base in Westport. The company also has a number of international outlets, such as in the UK, and opened its first office in Dublin this week.
Tata, one of India's biggest conglomerates, employs over 600,000 people across its various companies, which have combined revenues of over $100 billion.
Written by Paul O'Donoghue and originally published on Fora, a new business publication for Irish startups and SMEs.
www.arconrecruitment.com