Overview
In response to the growth, recent expansion and product launches a new opportunity has arisen for a Control Systems Engineer for our client in Mayo.
This role presents an ideal opportunity for a candidate who wishes to be part of a dynamic, innovative, and developing international company.
Position Description & Responsibilities:
To implement the systems and structures required to develop/write software and hardware for machine control using Codesys V2.3 and V3.5.
Understand, create, edit, and deploy PLC application software to ISO 61131 parts 1-10
Develop, implement, maintain, and oversee software and hardware development. (Design, build, test).
Create and design the required design documents.
Provide and maintain detailed electrical drawings.
Managing several projects at once.
Provide solutions to quality issues.
Ensuring compliance with audits, certifications, and regulations (Safety regulations or other).
Support to engineering and production in all instances.
Ability to produce reports, monitor progress and analyse data.
Work with sales team to help deliver competitive & innovative solutions to the industry as directed by the MD.
Provision of training material and diagnostic for product support and distributors/dealers/end users.
Assembly, testing, debugging & repairing of R&D electronic control systems.
Position Requirements:
A minimum of 3 years' experience in a similar role.
Knowledge of PLC controllers and PLC software. Ideally Codesys but not essential. Training will be given where required.
Broad Machine knowledge (e.g basics of hydraulics/ pneumatics and electrical systems).
Working knowledge of electrical signals e.g. 4-20mA analogue, PWM etc.
IEC6113-3 programming (ladder logic, function block diagram, structured text).
Communications protocols such as CAN, CANOpen, ISOBUS, Ethernet/TCP.
Planning, organization, and project management skills to be able run and monitor the product development.
Attention to detail and priorities, high standards, results focused and ensuring consistent quality.
Technically-minded with mechanical aptitude for problem solving and improvements.
Able to handle responsibility and the pressure of meeting demanding and changing deadlines.
A leader, team player and builder, decision maker with clear communication (written & verbal) skills.
Third level qualification in related field.
IT literate and numeric.
Key Relationships:
Managing Director – Product Development
R&D Senior Manager
Financial – Technical & R&D
Engineering – Product design and production engineers.
Production – Making products (software & Hardware) production ready
Sales personal – take customer/end user feedback and provide solutions and developments to meet their requirements.
For more information, Contact Mairéad at Arcon Recruitment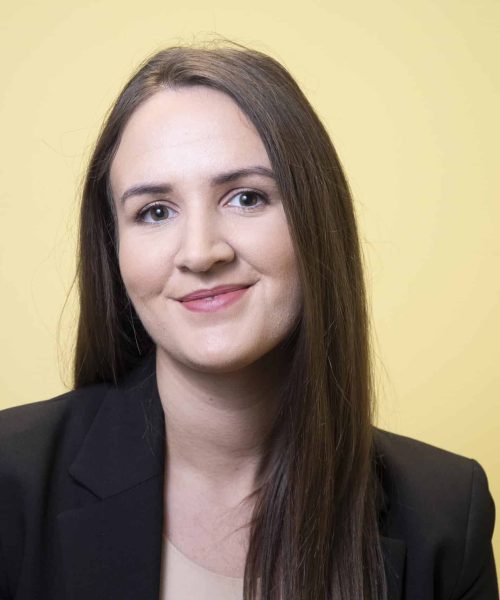 Mairéad initially joined our team as Marketing and Recruitment Co-ordinator. She quickly progressed to Recruitment Consultant and currently manages our busy Technical division. Mairéad is a proud Castlebar woman and holds a B.B.S from ATU Sligo. Mairéad recruits for positions in all areas of Technical/ Engineering and I.T. She has built excellent relationships with companies large and small and has proved herself invaluable in solving their recruitment issues.