Overview
Our client is seeking a Quality Manager to join their innovative IT team in Co.Mayo!
Seeking a Quality Manager to help us meet Customer data accuracy and reliability requirements that in turn support our revenue growth objectives.
The role will support the day to day operations of the business with solutions that deliver actionable, trustworthy insights and drive data innovation across the Customer enterprise in a secure and reliable way.
Role Responsibilities: 
Get very hands-on with internal and external datasets. Perform data wrangling, cleaning and featurisation to prepare data for Machine Learning algorithms.
Must be familiar with work process and have good technology competencies demonstrating a deep understanding of Machine Learning where you can explain models, underlying algorithms, and mathematical principles.
Assist with Modelling evaluator performance data and make statistically informed recommendations around productivity, participation and quality.
Experience in Managing a team in a fast-paced client-facing work environment and/or contact centre is desirable.
Must be able to demonstrate the ability to work independently, display initiative and dedication to deliver work in a timely and successful work manner.
Ability to manage a multifaceted role and react quickly to business needs. Managing multiple customer programs consistently meeting customer quality expectations.
Devise procedures and process identifying quality issues in a systematic way.
Excellent face to face, verbal, and written communication skills.
An ability to create a high performance, high standards team. Coaching team members on quality standards to ensure a high standard of quality throughout the team.
Identify procedural, knowledge and skills gaps and launch quality improvement initiatives.
Excellent interpersonal and client service skills, coupled with a strong ability to develop relationships and influence both team and clients.
Manage work delivery against key performance indicators KPI.
An ability to keep an eye on the big picture and on the fine detail.
Flexible availability to work schedules covering several time zones.
Effectively plan and collaborate with a global team on data driven initiatives to solve operational problems.
Present quality vision and objectives to customers at business review meetings.
Assist with customer proposals and new customer presentations.
Communicate data-driven results and recommendations clearly to technical and non-technical audience.
Technical Requirements:
B.A. or B.S. degree with a quantitative focus in Quality, Computational linguistics, Humanities, Data Science/Analytics, or equivalent experience
3+ years of professional experience, with a background in end to end quality program management and/or operations
Experience with data visualization tools (e.g., Microsoft Power BI)
For more information, Contact Mairéad at Arcon Recruitment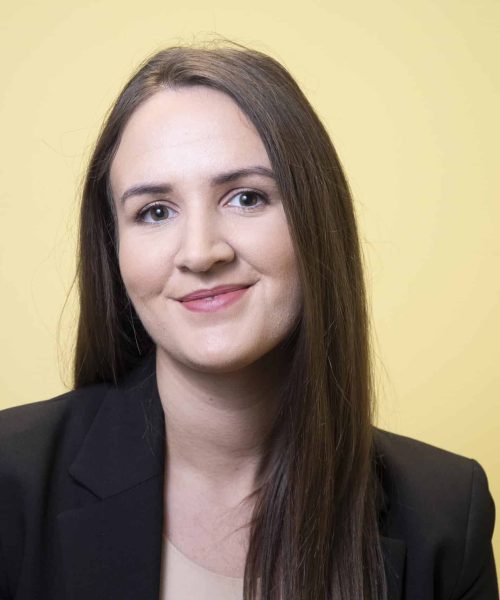 Mairéad initially joined our team as Marketing and Recruitment Co-ordinator. She quickly progressed to Recruitment Consultant and currently manages our busy Technical division. Mairéad is a proud Castlebar woman and holds a B.B.S from ATU Sligo. Mairéad recruits for positions in all areas of Technical/ Engineering and I.T. She has built excellent relationships with companies large and small and has proved herself invaluable in solving their recruitment issues.