Overview
We are seeking a Manufacturing Supervisor for our established client in Mayo
Manufacturing Supervisor is a key role within the organization tasked with driving manufacturing excellence at the shop floor level. This will be achieved by coaching, guiding and developing Manufacturing Team Leaders and Associates to drive improved results in the areas of Production, Safety, Quality, Service and Cost objectives compatible with company Mission and Vision. This role is additionally responsible for administering policies and corrective actions, support new product commercialization and advocating team growth within a team based environment.
This role is responsible for effective implementation of the Production System and improvement of critical KPI's by solving systemic problems for assigned cells.
Responsibility:
Employee Relations:
Provide leadership to the team(s) under the incumbent's areas of responsibility to coach and enable Manufacturing Team Leaders, support Engineers and Associates to be successful in meeting or exceeding team goals in safety, quality, service & cost in an environment of continuous improvement.
Conduct Associate reviews, provide constructive feedback for performance improvement and conflict resolution.
Support, model, and promote company's Cultural Beliefs and plant culture. Interpret and apply company policies in a consistent manner.
Ensure Associates create and follow constructive development plans and all training is completed/recorded.
Engagement:
Promote an environment for the development of Associates into leadership roles both through Manufacturing Team Leaders and through direct coaching and support.
Monitor metrics that impact the nominated area's performance, and address short-falls in achieving goals and targets, as it relates to associate performance or other challenges.
Recognize and reward Associates for achievements through use of approved programs.
Ensure that different shifts work in a coordinated and supportive manner with each other.
Responsible for process confirmation of standards in assigned cells.
Production Oversight:
Responsible for the design, implementation and maintenance of systems to deliver targets for Safety, Quality, Service & Cost.
Responsible to improve cell performance by addressing systemic issues impacting performance, identify improvement projects and prioritization opportunities to improve performance.
Develop and monitor monthly plans vs actual for the cell, providing analysis of performance KPI's and any quality issues to the Manufacturing Manager.
Carry out internal cell HPS and compliance audits – month/weekly reports as appropriate.
Participate in Tier-2 board meeting, full report about his/her cell (info for VSM).
Meet with Quality/Projects/Supply chain teams and finding root causes of issues (3C, A3, CAPA);
Member of MRB (Material Review Board) meeting.
Provide a safe work environment. Monitor safety conditions within the team, including incident reports, near misses and conduct accident investigations with root cause analysis. Report out on same.
Report out on OEE analyses, reports and improvement plans with Value Stream Engineers and Maintenance Team Lead.
Assist in the improvement of Operational Equipment Efficiencies (OEE). Review and approve machine production rate goals based on equipment performance and continuous improvement.
Monitor hourly/daily/weekly performance across all shifts (including efficiency/scrap reports); address issues as needed.
Respond to and facilitate efforts to address quality issues, including corrective and preventative actions within their direct area of responsibility.
Ensure delivery schedule meets customer priorities; analyze machine capacity and staffing needs to meet demands.
Lead the implementation of the Production System and drive performance improvement by using the tool to solve systemic issues.
Staffing and Resource Planning:
Approval of  training plans for new Associates (Team Leads and Operators)
Responsible for building the team and be involved in to final interview with candidates to operator position as appropriate.
Manage staffing levels to ensure plans are executed.
Identify skills needed for each team (leadership, technical, experience, etc.), providing feedback and updates to Manufacturing Manager.
Interview and select candidates for critical positions.
Project Management:
Work with Manufacturing Manager and Project Process Engineers in support of new machines, prepare new work places and layout for new machine (furniture, HPS, tools, associates…)
Meet with Maintenance Team Lead and ensure that all periodical maintenance tasks are done on time and equipment is getting a good service level.
Undertake HPS cell assessments and ensure that it is implemented in each dedicated cell.
Lead and/or support team projects, champion Kaizen events, and implement cost saving initiatives within their direct area of responsibility.
Collaborate with Engineering and Planning functions to support the successful integration of New Product Commercialization projects, and equipment launches; including staffing, skill needs, cost analysis, scrap rates on new equipment, bill of materials, packing methods and other project details – as needed.
Other duties and tasks as assigned.
Work Experience Requirement:
Number of Overall Years Necessary: 5-8
3 years of working experience in a people leadership position holding a higher education qualification (engineering, manufacturing or other field) or 5 years of working experience in a leadership position with a stated intention to pursue an appropriate higher education qualification
Previous experience of working in a clean-room environment is preferred (if applicable)
Proven experience and demonstrated track record in operating in a lean environment and good knowledge of the job responsibilities
Specialised Skills/Technical Knowledge:
Proficient computer skills, including Microsoft Office Suite (Word, PowerPoint and Excel).
Excellent communication skills (oral and written).
Strong interpersonal communication skills and the ability to build and maintain trust in a team environment.
Critical Thinking and problem solving techniques (3C's, 5-Why etc.).
Lean (5S, etc.) and Six Sigma knowledge & experience preferred.
Familiarity with manufacturing ERP systems and shop floor data acquisition preferred.
Medical Device or other FDA related manufacturing experience preferred.
Ability to improve processes.
Ability to lead & Ability to teach.
For more information, Contact Mairéad at Arcon Recruitment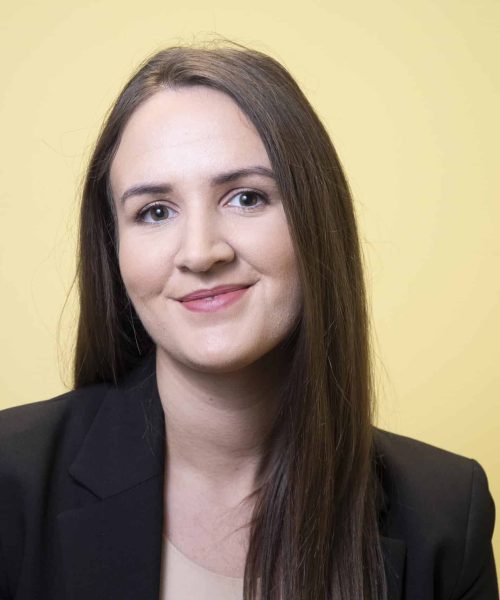 Mairéad initially joined our team as Marketing and Recruitment Co-ordinator. She quickly progressed to Recruitment Consultant and currently manages our busy Technical division. Mairéad is a proud Castlebar woman and holds a B.B.S from ATU Sligo. Mairéad recruits for positions in all areas of Technical/ Engineering and I.T. She has built excellent relationships with companies large and small and has proved herself invaluable in solving their recruitment issues.
PR/hl 001234