Overview
We are seeking a QSE Manager for our client in Mayo.
The Quality, Safety & Environment (QSE) Manager is a key member of the Leadership Team which develops and implements the strategic direction for the organisation as a world class manufacturing operation
The QSE Manager directs the planning, coordination, management and control of all the Quality functions within the plant including Formulations, Process Quality Assurance, Packaging, Laboratory, Environmental, Safety, Security, Water Treatment and Waste Water Treatment plus the implementation of the Quality Systems. Ensures the compliance of the policies, procedures, practices and norms of the Company to maintain a high degree of quality and food safety in the supply chain.
KEY DUTIES/RESPONSIBILITIES
As a key member of the Leadership Team, contribute to the overall strategic planning and day to day management of the operation leading to the development of a World Class Manufacturing Operation.
Ensure that Food Safety, Quality, Safety and Environmental Systems are in place and comply with Company and Regulatory Requirements. This includes the management of the Water Treatment and Effluent Pre-Treatment operations, plus the responsibility for Security and Waste Management contracts.
Ensure that Raw Material, Packaging and Product Quality meet Company and Business Requirements.
Ensure that Formula and Technical Master Data Management, together with Scientific & Regulatory Affairs Management, meet Company and Business Requirements.
Ensure that the Quality Assurance Function has the capability and expertise to deliver the required business support.
Develop and maintain a strong technical network with key Company and business stakeholders.
Manage the Budget, identify cost effective strategies and drive Value Creation and Lean Initiatives.
Work with Corporate Management to develop, interpret, and apply Food Safety and Quality plus Safety and Environmental Policies.
PREVIOUS WORK EXPERIENCE
A minimum of 10 years' experience in a high tech, large volume, manufacturing environment, typically beverages, pharmaceutical, food or healthcare.
3 years' experience in a senior management position as head of a Quality Assurance function.
Management of multi-disciplinary technical quality teams.
Fully familiar with all regulatory and best practice with regards to the following: quality system development (e.g. TCCQS, ISO, HACCP); statistical process control training and application; developing and implementing quality improvement programs; compliance and system auditing; knowledge of GMP and development and/or validation of manufacturing or laboratory processes or in food product development or regulatory role.
Strong communication, leadership, problem solving, planning and execution, project management, performance management, systems thinking, and strategic planning skills are required.
Demonstrated ability to identify opportunities and implement them using individual and cross-functional team projects.  Technical skills should include regulatory requirements, formula management, beverage and process technology, quality systems, process improvement, auditing, statistics and validation protocols.
Management across a multi-functional and global organization.
Excellent communication and interpersonal skills, including influencing, listening, team work and building value-based relationships.
Excellent planning, analytical, problem solving and decision-making skills, with ability to manage and prioritise multiple conflicting demands.
EDUCATIONAL REQUIREMENTS
Degree in Science subject, preferably Chemistry, Food Science, Food Technology or similar.
M. Sc or PhD preferred.
COMMUNICATION COMPLETXITIES
As a key member of the Leadership Team, works with the General Manager (GM) and the Leadership Team to set and achieve the plant's strategic and operational goals.
Contacts include the CPS General Manager and Directors, as well as GM's and Leadership Teams of the other concentrate plants worldwide.
Significant contact with Corporate senior manager in the Quality functions.
Other functional contacts throughout TCCC– approvals, reports, projects, technical support.
Corporate Quality
CULTURAL DIVERSITY
Establish a worldwide network of contacts within the Company with broad culture diversity. This includes other concentrate plants around the world, Corporate, Customers (bottlers), Divisions and Suppliers.
Ability to work within multi-cultural organisation and to leverage diversity.
TRAVEL REQUIREMENTS
This position requires approximately 10-15% travel within CPS to support business needs.
For more information, Contact Mairéad at Arcon Recruitment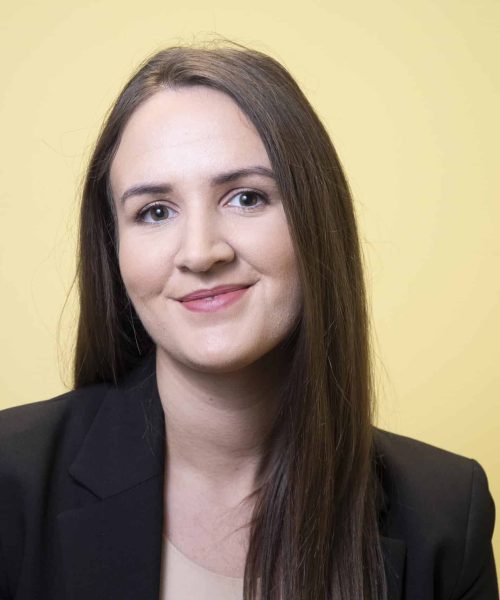 Mairéad fills the very busy position of Recruitment Administrator in Arcon. This position is multi-faceted and involves providing support to the Recruitment team. Mairead's day is never typical, and she has a great ability to prioritise tasks in an ever-changing and pressurised environment. Mairéad also manages our extensive database and regularly "catches up" with our registered candidates to make sure the information we have on file is always up to date and correct.