Overview
Senior R&D Engineer required for our client in Leitrim
Responsibilities
This involves, but is not limited to:
Works independently or with minimal guidance
Solving complex problems or problems where precedent does not exist and takes a new perspective on existing solutions
Contributes to products/services or process improvements or uses best practices and knowledge of internal or external business issues to improve products/services or processes
Serves as a specialist or expert within own job discipline
Has in-depth working knowledge in own discipline and good knowledge of related disciplines
Often leads projects or project steps within a broader project or has accountability for on-going activities or objectives
Formally trains junior staff or acts as a resource for colleagues with less experience
Level at which the professional career may stabilize for many years or until retirement
Requires in-depth conceptual and practical knowledge of theories, practices and procedures in own job discipline and moderate knowledge in related job disciplines
Has knowledge of best practices and how own area integrates with others; is aware of the competition and the factors that differentiate them in the market
Acts as a resource for colleagues with less experience
Leads smaller projects with moderate complexity and manageable risks and resource requirements
Solves complex problems
Takes a new perspective on existing solutions and exercises judgement based on the analysis of multiple sources of information
Impacts a range of customer, operational, project or service activities within own team and other related teams; works within broad guidelines and policies
Explains difficult or sensitive information; works to build consensus in complex situations
Qualifications
Third level Qualification in Engineering or Science, preferably in Mechanical or Biomedical; Minimum Bachelor's Degree in a Science / Technology / Engineering related discipline (Mechanical, Manufacturing, Automation or equivalent)
Ideally design capability with CAD systems (Solid Edge)
A Senior position may exist with a minimum of 4 years' experience.
Strong interpersonal and communications skills
Motivated and Self-starting
Ability to manage multiple tasks and adapt to changing, fast-paced environment.
High level computer skills including Microsoft Excel Powerpoint and Word.  Solid Edge and MS Project desirable.
For more information, contact Mairéad at Arcon Recruitment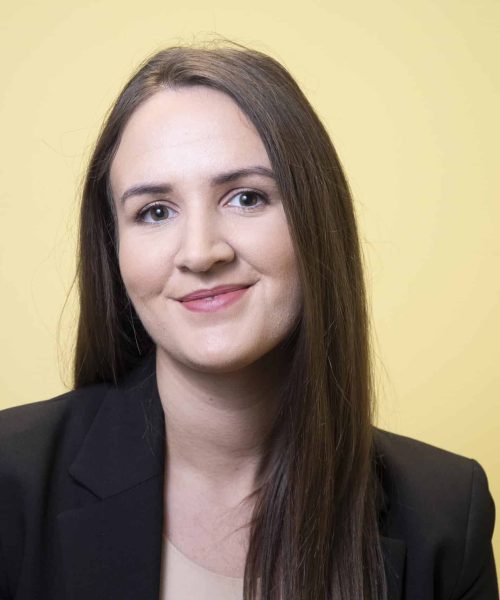 Mairéad fills the very busy position of Recruitment Administrator in Arcon. This position is multi-faceted and involves providing support to the Recruitment team. Mairead's day is never typical, and she has a great ability to prioritise tasks in an ever-changing and pressurised environment. Mairéad also manages our extensive database and regularly "catches up" with our registered candidates to make sure the information we have on file is always up to date and correct.