Overview
Our client is seeking to appoint a PROJECT MANAGER in Wexford.
This is a great opportunity for an ambitious and driven individual to join a growing business.
Roles and Responsibilities:
• Ensuring the highest standards of safety and environmental protection are consistently maintained, and strive to out-perform standard practice at every opportunity
• Ensuring that quality throughout project delivery is maintained and meets the business policy and exceeds client expectation
• Leadership of the assigned project delivery team including Site Management and Supervision staff, the Procurement team, the Commissioning team and the Design team
• Detailed understanding of the project scope and active management of change from this scope utilising the contractual mechanisms set out in our signed contracts.
• Coordination and managerial responsibility for the design, procurement, subcontract packages of work, DfMA/OSB, commissioning and handover process;
• Maintain a presence on site during the construction phase, ensuring that day to day operations are proceeding in alignment with the programme and budget
• Ensuring that the programme and budget are central to decision-making during the coordination and management of project deliverables
• Active participation in Client meetings as the lead representative of the business
• Ensure procurement is progressed in line with the project programme/schedule;
• Ensure supply chain value is achieved through a competitive tendering process
and continuous challenge
• Maintain oversight on all technical aspects of the project, and ensure the project team have a clear and consistent understanding of the technical deliverables
• Continuous liaison with and coordination of project support staff including SHEQ, Planning, Commercial
• Report to the Contracts Manager both on an informal ad-hoc basis and on a formal basis, focussing on agreed KPI's and key deliverables
Experience/Qualifications Needed:
The right candidate will be able to demonstrate the following key experience necessary to fulfil the requirements of the role:
• At least 3 years in a Project Manager role in the Water Industry, preferably with a Tier 1 contractor
• A mechanical or electrical-based academic qualification, preferably degree level
For more information, Contact Thomas at Arcon Recruitment
Thomas: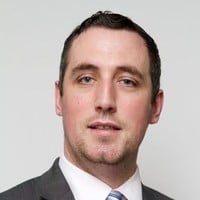 Senior Construction Recruitment Consultant
Thomas joined the Arcon team in January 2020, heading up the Construction and Engineering division. Thomas brings a wealth of experience with him having worked for a number of years in recruitment- both in an agency and within an in-house environment. Originally from Sligo, Thomas is now living and settled in Westport.